Brendon Abram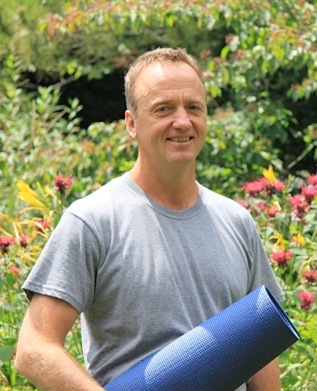 Hi. My name is Brendon Abram and I am pleased to offer yoga classes in Brighton and Trenton. My primary goal as a yoga teacher is to help you establish and maintain your own personal yoga practice. While classes are a great way to learn yoga, with a little bit of knowledge and support you can have a meaningful and rewarding yoga experience anytime, anywhere.
This website is intended to provide you with the resources you need to support your personal practice.  It provides access to information you can use to help develop the physical part of your yoga. Recognizing that yoga is "Mind, Body and Spirit", you will also find inspirational ideas and concepts for mental and spiritual growth. I would welcome, and will respond to, any comments you would like to make on any of the posts. You can also pose any questions you may have to me through the Contact page. By sharing our thoughts and ideas we can help each other grow through the study and practice of yoga. I very much look forward to hearing from you.
I have been practicing Yoga for over ten years. It has had such a profound effect on my life that I have decided to pursue teaching it as a second career. In February 2011, I completed a 200 hour registered yoga training program at Yandara Yoga Institute and have been teaching Yoga at various venues in the Trenton and Brighton region since then. I am Yoga Alliance Certified. I am also certified by the Trauma Centre in Boston to teach trauma informed yoga to survivors of PTSD and other emotional trauma. An associate at Trent View counselling, I am privileged to teach Mindful Yoga in Trenton to veterans of Canadian Forces operations who are recovering from PTS. I am trained by the Veterans Yoga Project and have taught yoga to United States Military veterans with PTS. I was also a member of a joint Queens University/ Royal Military College of Canada study team which undertook the first military sanctioned study (in Canada) on the effects that yoga may have on men and women recovering from exposure to operational trauma. I am certified to practice Thai Yoga Massage and have provided hundreds of massages to a regular client base in the Brighton and Trenton areas. Having recently completed the 8 week Jon Kabat-Zin Mindfulness Based Stress Reduction Program, I look forward to incorporating mindfulness into all of my endeavours.
Emma Rose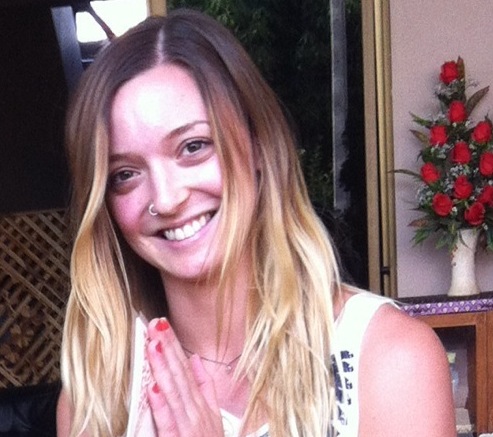 Enthusiasm for movement and exercise has brought inspired energy to Emma Rose since a very young age. Emma began dancing at the age of four and continued to train and graduate with a BA honours majoring in Dance Performance from the School of Contemporary Dancers in affiliation with the University of Winnipeg. Emma began practicing yoga at Moksha Yoga Winnipeg and fell in love with it, mind, body and soul. Emma's devotion to Yoga led her to the Byron Bay Yoga Centre in Australia where she completed a 200- hour Yoga Alliance recognized teacher certification (RYT). Since receiving her certification Emma has been teaching at various studios in Canada and continues to expand and grow as a teacher. She has recently completed a 30-hour Yoga Alliance recognized Yin Yoga training with Joe Barnett in Ottawa, On. Emma has also trained to practice Traditional Thai Yoga Massage. She had the opportunity to attend training at the Old Medicine Hospital Thai Massage School in Chiang Mai, Thailand. Emma has a fun loving spirit and it shows in her playful sequencing and teaching.
Jenny Doucet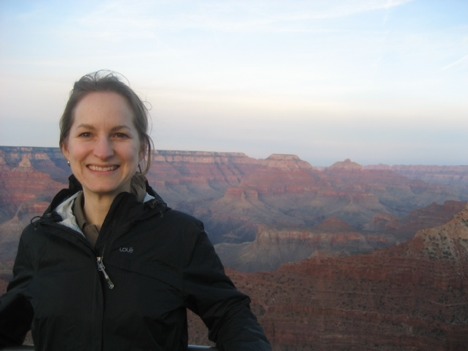 -To the mind that is still, the whole universe surrenders. – Lieh Tzu
Jenny quickly realized the benefits of practicing yoga and was amazed at how she would go into a class tired and battling a headache and leave feeling energized. Her goal is to offer this same transformation to others by creating classes that are enriching for the mind, body and spirit.
Over the years she has focused primarily on practicing Hatha Yoga but has also practiced Kundalini Yoga, which gave her a deep appreciation for meditation and the use of sound to encourage healing and relaxation. In 2013 she completed her 200 hour Hatha Yoga Teaching Certification at PranaShanti Yoga Centre in Ottawa and continues to further her training through weekend workshops, master classes and self study.
A true believer that yoga is for everyone, she encourages beginners to try out a few classes and will create an inviting atmosphere for all who practice with her. Jenny has a strong desire to help her students, beginner to intermediate, achieve their personal wellness goals. She feels very fortunate to teach and share her passion for yoga and is thrilled to be part of this growing yoga community in Trenton.
Joanne Manzara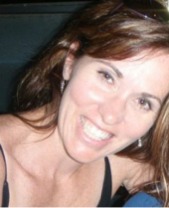 Joanne Manzara is a Registered Yoga Teacher (RYT) 200 certified Yoga Teacher. Her personal yoga practice began 15 years ago when a friend took her to a class. This is where Joanne found her love for yoga. Through Yoga, Joanne began to find the inner peace of Yoga begin to trickle into each aspect of her life. The more classes Joanne attended, the more balance she began to feel in her everyday life.
 
 
Sarah Whiteman
Five years ago while studying Massage Therapy in Toronto I was introduced to yoga and instantly fell in love. Yoga was my outlet providing the stress relief and centring I needed during my long and intense days at school.
After establishing myself as a Registered Massage Therapist in Belleville, I decided it was time to pursue yoga teacher training. I spent 7 weeks at Janati Yoga School in Kingston, where I completed my yoga teacher certification (RYT-200).
As a Registered Massage Therapist I focus on the body by relieving stress that has accumulated in the muscle tissues. As a yoga teacher, I take it one step further connecting the body with the mind through breath and movement.
I'm looking forward to sharing my passion for enhancing emotional and physical well-being and invite you to embark on this journey with me.
Namaste!
Cathy Ireland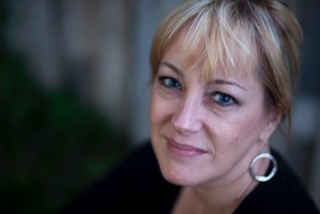 Cathy Ireland, Completed Yoga Certification, 225 Hour Level – Yoga Alliance Certified Teacher Program, through Spynga Inc in Toronto. October 2015. Cathy has been practicing yoga since 1999. As a single mom she found yoga provided a much needed reprieve from the challenges of life. Later she also saw the benefit of yoga when integrated into her running and spinning exercise regime. In 2014 she and her husband attended a year long yoga journal program which resulted in her decision to take yoga to a deeper level by enrolling in the teacher training program. Her goal in doing so was to learn more about yoga philosophy and to more fully develop her practice and commitment to her own practice. Cathy is passionate about sharing with others as she continues to learn. She is enthusiastic to help others develop their own sustainable practice, achieve greater flexibility, inner peace and/or life balance.
"Your life is a sacred journey. It is about change, growth, discovery, movement, transformation, continuously expanding your vision of what is possible, stretching your soul, learning to see clearly and deeply, listening to your intuition, taking courageous challenges at every step along the way. You are on the path… exactly where you are meant to be right now… And from here, you can only go forward, shaping your life story into a magnificent tale of triumph, of healing, of courage, of beauty, of wisdom, of power, of dignity, and of love." ~ by Caroline Adams
Josee Seguin
"And the day came when the risk it took to remain tightly closed in a bud was more painful than the risk it took to bloom" (Anais Nin) This quote is a reflection of life for me, in a world that causes us to fear the unknown instead of embracing the challenges we must face to become stronger with mind, body and soul. Hello, my name is Josee Seguin and yoga has offered me a chance to have a profound interest in ME. First and foremost I am a spiritual and colourful woman. I have taken many years to focus on who I want to be and how I would like to be perceived by the world. I am a mother to two wonderful children and a companion to a loving man in my life. . I became a student of yoga in 2002 and was inspired to learn all there was regarding this way of life. In 2012 I became a 200RYT as well as a Level 2 Reiki Practitioner. My background consists of Hatha Yoga, Ashtanga Yoga as well as Strala Yoga. Yoga has allowed me to become very intimate with my mind body and soul and continuing a yogic lifestyle reminds me to stay focused on my actions and the reactions they cause in my life as well as others around me. I am honored to guide you in your spiritual journey. Let's share some mat time Quinte and get Breathing together.
Lots of Love,
Josee