Don't judge each day by the harvest you reap, but by the seeds that you sow.
Robert Louis Stevenson
What if we changed our perspective a bit and thought of ourselves as gardeners? Gardeners planting seeds.
Through our words and actions we can plant seeds for the kind of world we want to live in.  Leading with our hearts, being generous and compassionate.   Lifting up others.   Giving without calculating how much our efforts are worth in time or money.
Maybe the seeds we plant won't grow right away.  Seeds need different conditions in order to be able to germinate and grow. Some need a long period of dormancy, waiting hidden under the soil.   Some need the cold of winter, or the heat of a fire.
We need to be mindful of the kind of seeds we plant and make sure they are good ones, because they will eventually grow up all around us and shape our world.  Every time we plant a seed of resentment, jealousy, greed, or anger this seed will wait to grow in our world as well.   Care and mindfulness is needed if we want to plant the seeds that will truly enhance our lives and the lives of those around us.
Plant seeds for the kind of world you want to live in.   Then trust these seeds will grow in time.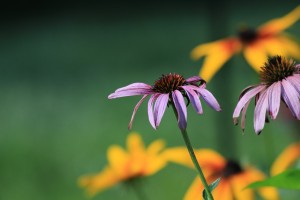 The miracle is this- the more we give, the more we have.   Leonard Nimoy.
Leslie
January 2017