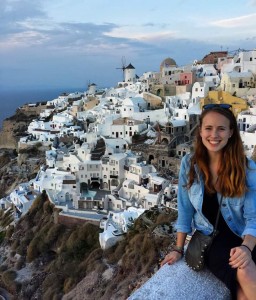 Many thanks to Rachel W. for this wonderful blog about the power of regular yoga practice.  Read on!
Discovering Yoga
I've dabbled in yoga before, but only casually. Over the past several years, I've tried on various occasions to get into yoga, including attending packed classes at the YMCA or the gym at my university, attending local yoga studios while visiting friends, and watching YouTube video routines. I'd usually only manage to be consistent for a few weeks before giving up, until the next time I remembered, "Oh yeah, yoga is good for me and I kind of liked it the last time I tried it, maybe I should give it another shot". Although I enjoyed it, and I knew it could benefit my health and complement me as a runner, I could never seem to stick with it. This year, I think I'm finally ready to change that.
Shortly after New Years, the post-holiday exhaustion had set in. I felt tired, lazy, and daunted by all the New Years' resolutions that I knew would be broken before I could even get started. Year after year, don't we always do this to ourselves? Make our grand plans for living healthier, sleeping more, and exercising regularly, only to have our best intentions crumble after a few weeks or months. This year, I worried, would be the same as always… except sometimes life throws solutions right in front of you, if only you're paying attention. As I was walking through downtown in early January, I passed by the Get Yoga studio. I had done this many times before and it was something to which I had never given a second thought. On this particular day, I saw that there were copies of the class schedule sitting in a box outside the door, waiting invitingly for me to take one. On a whim, I grabbed one. "It's a new year," I thought. "Maybe it's time to try something new. Maybe this time will be different."
So far so good.
I talked to my mom later that same day about my idea. I told her I was thinking of attending a few classes to see what the studio and the instructors were like, and to get a feel for the atmosphere. I wanted to test the waters, but I didn't want to go alone. I urged her to come with me to at least one class. And maybe, just maybe, if we liked it, we could go again sometime, together. She thought that sounded like a great plan, and we made a date to attend a "Yoga for Beginners" class the next Friday. We went, and were immediately hooked.
It didn't take long before we found ourselves making more yoga dates. We each signed up for a monthly membership so we could try a variety of classes and experience different types of yoga. It's been two months since we went to our first class and we're both still practicing regularly at the studio, multiple times per week. Between the two of us, we've convinced at least four other friends and family members to join us at yoga, even if only to try it out once. Mom and I still usually attend at least one class together per week, and it's become fun, relaxing mother-daughter time. Yoga has become a family affair.
So what changed for me this time around? Why do I now find myself hooked, feeling great, and finding myself able to stick with it?
I have to admit that convenience has played a big part for me. I live less than a kilometre from the studio, so close that it would almost be inconvenient not to go! The variety of classes offered also means that I can choose what kind of practice I feel like having on any given day: if I'm tired I can go to the gentler, low-intensity classes, and if I'm ambitious I can put in a real workout at one of the more challenging, high-intensity options. The small class sizes mean that I can get to know each instructor, and that they can offer guidance and help me make adjustments to ensure that I'm correctly performing each pose. This has been very important in helping me stay committed to coming each week. I've always known that yoga could help me feel flexible, strong, and limber, but part of me was always afraid that I wasn't doing it right. I thought I looked silly, or worse, that I could actually injure myself by bending or twisting something the wrong way. The over-full classes at the gyms that I would go to meant that the instructors couldn't help every single person, and the YouTube videos are no substitute for a real instructor. I would simply try to mimic how the instructors' bodies looked and hoped for the best. Now, I can ask a question any time I'm unsure of how something is supposed to feel. For the first time, I feel like I know how to do yoga. I have confidence that what I am doing is helpful and good for my body.
After practicing yoga for even the short amount of time that I have been, I've already noticed improvements in my abilities and in my daily life. I feel stronger and more flexible. The poses are becoming more comfortable, and I can do things I didn't even realize were possible, like standing on my head, or holding the weight of my body in crow pose! The day after a class I can feel muscles that I didn't even know I used. They're just little accomplishments, but these things keep me motivated to try and accomplish even more.
My yoga journey has been so rewarding and fun so far, and I look forward to continuing in this adventure. I've even had my first yoga epiphany! A challenging class that I've been attending regularly since I started practicing finally felt good to me… I could feel for the first time that I was making improvements and I felt so good during the class, instead of feeling like I was struggling. These breakthrough moments are what make me want to keep practicing. At the end of each day I feel relaxed, self-aware, and so grateful for everything my body can do. Here's to having more breakthrough moments and to discovering my potential through yoga!
Rachel W.   March 2017